We look forward to your applications!

Please help us evaluate your request as easily and efficiently as possible by making sure your PDF application (download) contains:

- a complete concert program / concept including at least one composer who is connected to Berlin (i.e. from Berlin, worked in Berlin, has an important connection to Berlin.)

- exclusively contemporary music

- Links to biographies and/or audio examples of composers and musicians who might not be known to us (please no large attachments)

Please note that:

- We cannot cover travel or accommodation costs

- As a general rule we do not accept portrait concerts (of a single composer)


Send completed applications to: unerhoerte.musik@web.de


Applications are considered ca. 4 times yearly by our artistic committee. Please understand that it may take up to 3 months for us to reply.



Application / Concert Request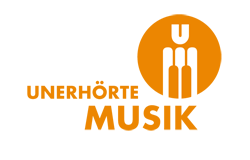 Zurück zur Übersicht
back home
> deutsch